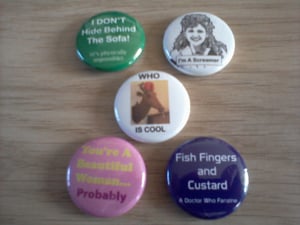 £

0.01 - On Sale
A Selection of 5 Badges (25mm - about 1 inch round) for you to show off to people. In keeping with Fish Custard Fanzine tradition, this pack is extremely good value. In NOT keeping with Fish Custard Fanzine tradition, they've been made by people who actually know what they're doing.
YOU'RE A BEAUTIFUL WOMAN, PROBABLY - A nice token to offer a ladyfriend at a convention. With luck, you may enter into a blissful courtship. Or a cubicle at the local A&E. Either way, you get to meet people.
I DON'T HIDE BEHIND THE SOFA - If you want to show how brave you are, rock this insignia, so people will know what a hardcase you really are when to come to watching Doctor Who.
WHO Is Cool - Our infamous mascot, Moosey, who occupies our local pub, donning his fez, looks cooler than Matt Smith ever will.
I'm A Screamer - It's Mel. She's A Screamer. This badge would suit you too, if you are also a screamer. Or a Mel.
Fish Custard Fanzine - A talisman to ward off evil spirits and people trying to sell you tat at a convention. They can already see you've bought some tat by looking at this badge.